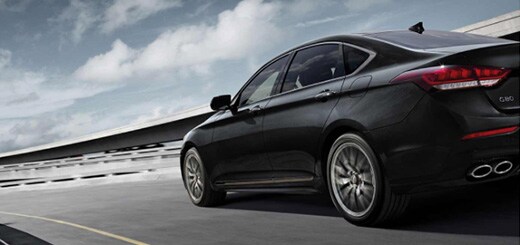 The 2018 Hyundai Genesis G80 Sport Trim performs without sacrificing comfort or style. Based on the well-equipped G80 luxury sedan, the G80 Sport Trim offers even more pep and pizzazz while keeping its sibling model's long list of features. Here's a look at the top five features of the 2018 Genesis G80 Sport Trim.
Twin-Turbocharged Power
As is true with any sports car, the Hyundai Genesis G80 Sport Trim's main feature is under the hood. A 3.3-liter GDI twin-turbocharged V6 that has a ferocious roar and backup up its talk with plenty of power. When the gas pedal is fully pressed, the V6 will put out 376 pound-feet of torque and 365 horsepower, all of which is transferred to the wheels via a sport-tuned 8-speed automatic transmission.
Sport Suspension and Brakes
The mechanical upgrades don't stop with the twin-turbo V6 and 8-speed transmission. The 2018 Genesis G80 Sport Trim also comes with a sport-tuned continuous damping control suspension that's constantly adapting and oversized rear brakes that help harness all of the engine's power. Together, all of these systems make the G80 Sport Trim one aggressive and impressive sports sedan.
Available Adaptive All-Wheel Drive
As a classically styled sports car, the 2018 Genesis G80 Sport Trim comes standard with rear-wheel drive. A highly advanced all-wheel-drive system that's able to deliver varied driving experiences is available, though.
The G80 Sport Trim's all-wheel drive doesn't only monitor tires for slippage and transfer power as needed. It also adjusts the power distribution according to the driving experience that's desired. In Sport Mode, the all-wheel-drive system will deliver up to 90 percent of the engine's power to the rear wheels for an old-school muscle car experience. When roads are slippery, all of the engine's torque can be directed to the front wheels in Escape Mode.
Bold Exterior Styling
The Sport Trim of the 2018 Genesis G80 features a bolder look than its sibling trims. The Sport Trim has an aerodynamic front fascia, sport side rocker molding and sport rear lower diffuser, along with copper accents and dark chrome exterior trim. Together, these features leave no doubt that the Sport Trim intends to assert itself.
Lots of Technology
While making all of these upgrades, the 2018 Genesis G80 Sport Trim doesn't neglect non-performance features. It comes with the many standard features that make owning any Genesis G80 so convenient and fun. For instance, the G80 Sport trim comes standard with all of the following:
all of Hyundai's advanced safety technology
Hyundai's Genesis Experience
the most interior room of any car in its class
an integrated driver setting memory system
a premium Lexicon audio system
Test Drive the 2018 Genesis G80 Sport Trim
If you're looking for a sports car that's full of features, come test drive the 2018 Genesis G80 Sport Trim at McGrath City Hyundai. At 6750 W. Grand Ave. in Chicago, the dealership is just a short drive from Berwyn and Des Plaines, and there are several Genesis G80 Sport Trim models (and many other Genesis vehicles) available on McGrath City Hyundai's lots. Let the sales team show you this sports sedan, and see if you aren't captivated by its combination of performance, style and features.