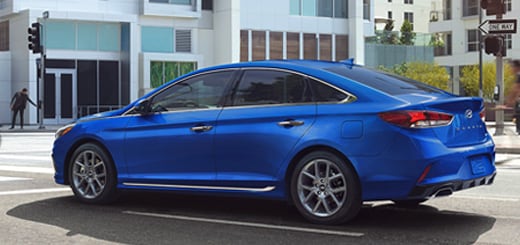 If you are on the hunt for a solid, sharp-looking commuter or Des Plaines family sedan, then you absolutely should stop and take a gander at the 2018 Hyundai Sonata. This goes doubly true if safety is a concern for you. That's because the 2018 Hyundai received the Prestigious Top Safety Pick award in California.
The Top Safety Pick award is the highest possible rating available from the Insurance Institute for Highway Safety (IIHS). Established in 1959, the purpose of the IIHS to reduce the number of motor vehicle crashes that occur every year and lower the rate of injuries and amount of property damage that does occur in the event of an accident. One way they work to achieve this goal is by thoroughly testing new vehicles for their safety features and equipment and then providing the results to consumers.
So what was so special about the 2018 Hyundai Sonata that the IIHS awarded it with its highest ranking? The following is a short look at what Des Plaines drivers have to look forward to:
4 Reasons the 2018 Hyundai Sonata is a Top Safety Pick
'Good' ratings on all of IIHS's crashworthiness tests
The primary thing tested by the IIHS group is the crashworthiness of test vehicles. To receive the creme de la creme "Top Safety Pick+" award, a tested vehicle must earn a "Good" rating on five out of five crash tests: the small overlap front, moderate overlap front, side, roof strengths, and head restraints and seats


"Superior" rating in front crash prevention
The next big step in the IIHS test is the evaluation of a vehicle's ability to avoid front collisions. There is a maximum of six points awarded for this test according to whether (and by how much) a vehicle can reduce speed and avoid a crash at both 12 and 25 miles per hour. The highest rating of "Superior" is given to those vehicles that excel at this test and receive either 5 or 6 points.


Strong acting headlights
Another key aspect of the IIHS ranking are the headlights. Never underestimate the importance of your headlights. Despite there being significantly less traffic on the road between dusk and dawn, as much as 40% of traffic fatalities occur when its dark outside. Driving at night is simply dangerous, especially in high altitude locations like Des Plaines and other Chicago area suburbs. But thanks to the LED headlight systems on the 2018 Hyundai Sonata, the night will always be better illuminated for its owners.


Strong safety equipment
In addition to excelling at all of the above aspects of the IIHS evaluations, the 2018 Hyundai Sonata also stunned testers (and vehicle buyers) with its suite of strong safety equipment. This sedan is built for families with seven standard airbags (including dual front, side, and driver's knee). There is also the standard stability control that automatically scans for situations in which the sedan's handling limits have been exceeded. Once such situations have been reached, this system will reduce engine power and/or apply brakes to prevent the driver from losing control.
Visit McGrath City Hyundai Today to Test Drive the 2018 Hyundai Sonata Near Des Plaines
Of course, the best way to understand why the 2018 Hyundai Sonata was justified in receiving the Top Safety Pick award is to get behind the driver's wheel for yourself. Come down to visit us at McGrath City Hyundai today to talk with our friendly sales associates and to learn more about this fantastic family sedan. Our family oriented dealership is conveniently located near Chicago area neighborhoods like Des Plaines, Cicero, and Berwyn.