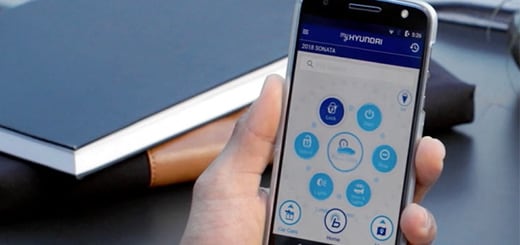 As vehicles and technology become increasingly integrated, the number of ways to bring cars and mobile devices together is increasing. From the vehicle side, Hyundai includes Android Auto and Apple CarPlay on many of its vehicles. From the side of mobile devices, many developers (including Hyundai) are creating apps that improve the driving experience. If you drive a Hyundai vehicle, here are five must-have apps for your Hyundai.
My Hyundai with Blue Link
My Hyundai with Blue Link keeps you connected to your Hyundai even when you aren't in it. Through the app, you can access your vehicle's health report, start the vehicle remotely and lock the vehicle remotely. You can also find a nearby gas station or your Hyundai vehicle -whichever you're having trouble finding at the moment.
My Hyundai with Blue Link is compatible with any Blue Link-equipped Hyundai vehicle, and the app is free for three years when buying a new 2018 Hyundai Blue Link vehicle.
Hyundai Virtual Guide
Hyundai Virtual Guide is the world's first augmented reality owner's manual app. It transforms any tablet or smartphone into an interactive owner's manual that seamlessly guides drivers through maintenance items. Over 80 how-to videos and more than 50 informational guides provide a wealth of information. The six three-dimensional overlays make everything easy to understand.
Hyundai Virtual Guide is currently only available for 2015 and 2016 Sonata (non-hybrid) models. For drivers who have these vehicles, however, the app is indispensable.
GasBuddy
GasBuddy is a free app that provides crowd-sourced information on local fuel prices. Whether looking for a close gas station while traveling or seeking out the lowest price in your hometown, GasBuddy is ready to help. Check individual station's prices, and sort them by type of fuel (i.e. diesel, regular, premium, etc.). The app will give you directions to the station you choose.
Waze
Waze is a free mapping app that's worthy of being downloaded even if your Hyundai is equipped with navigation. In addition to providing maps and directions, Waze also has a community feature where users post data on accidents, traffic jams, gas prices, law enforcement vehicles and more. Best of all, the user-generated data covers side streets along with major roadways.
If you're still unconvinced that Waze deserves to be in your suite of apps for your Hyundai, consider that Google paid over $1 billion for the app. If Google likes it that well, you'll probably find it useful.
PlugShare
PlugShare is like GasBuddy, except it's designed for electric and plug-in hybrid vehicles. PlugShare shows where nearby charging stations are, and it sorts them into home, public, access-restricted and quick-charge stations. It'll even show you which ones are currently being used. Like GasBuddy, PlugShare is free.
See What These Apps Can Do for Your Hyundai
Hyundai has a long history of leading the automotive industry in-app connectivity. Hyundai was the first automaker to offer Android Auto and the first to provide an app-based interactive owner's manual. Of course, the company continues to lead the industry in this area today.
To see what these must-have apps can do for your Hyundai, come visit McGrath City Hyundai at 6750 W. Grand Ave. in Chicago. The dealership is just a short drive from Cicero and Berwyn. Make that drive, and let the team here show you how these apps for your Hyundai can improve your driving experience. If you don't have a Hyundai, you can find out how a Hyundai vehicle and the right apps will make driving a lot more fun.