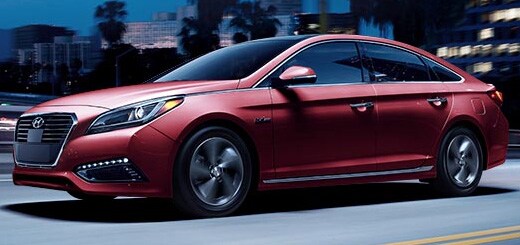 When the road's calling, you need a vehicle to take you on the journey ahead. Whether you have a long commute to work or plan on taking a cross-country road trip, Hyundai has the right car, crossover or SUV for you. Here's a guide to choosing a Hyundai for your road ahead, however long it may be.
Driving All Day: The 2017 Iconiq Hybrid
If you want to just get in your car and go, the 2017 Iconiq Hybrid is the car for you. It's the most fuel-efficient car available, boasting an EPA-estimated 58 combined miles per gallon (57 mpg city/59 mpg highway). On top of this, the hybrid has a range of 670 miles, which is a full day's drive.
With the 2017 Iconiq Hybrid, you won't have to stop often to fill or charge up. You'll be saving both time and cash, which lets you go farther and do more on your journey.
Bringing the Whole Gang: The 2018 Santa Fe
When the whole crew is coming with you, look to the 2018 Santa Fe to provide the space that everyone needs. Seating for seven lets you bring the family, band or college friends along, and 13.5 cubic feet of cargo space behind the third row provides room for everyone stuff. If that's not enough cargo room, the 3.3-liter V6 is more than capable of towing a camper or trailer behind.
Adventures and road trips are best shared, and that's just what the 2018 Santa Fe lets you do. Pack up, pile in and take off. Just remind everyone to respect the rules of "Shotgun" at the rest stops.
Commuting to and From Work: The 2017 Sonata Plug-In Hybrid
Long commutes are some of the biggest gas-budget killers, which is why the 2017 Sonata Plug-In Hybrid is the winner if you have a long drive to and from work. It's 27-mile all-electric range is farther than most people's commutes. Even if your drive exceeds this, you'll still benefit from the car's 99 mpge.
Drive the 2017 Sonata Plug-In Hybrid to work, and you'll be getting to and from work using about as little fuel as possible. If you're also concerned about impressing clients, the Limited trim includes leather seats, heated front seats, a premium Infinity sound system and other features that will help you make an impression.
Going on a Family Vacation: 2018 Santa Fe Sport 2.0T
The smaller sibling of the Santa Fe, the 2018 Santa Fe Sport 2.0T is a solid choice for family vacations. It has most everything that families look for in a vacation vehicle:
comfortable seating for five
enough cargo space for the family's luggage and gear
solid gas mileage (EPA-estimated 28 miles per gallon on the highway)
good towing capacity (up to 3,500 pounds)
lots of standard and available features to keep everyone entertained and comfortable
Downtown and far from town, the 2018 Santa Fe Sport 2.0T is equally well-equipped for a trip to the city or camping in the country.
Get Help Choosing a Hyundai
Hyundai offers an excellent lineup of vehicles, so it's not surprising that there are several Hyundai models which do great on long trips. Which one is best for you, however, will depend on where you're going and who you're taking with you. For help choosing a Hyundai that'll suit your needs, come see us at McGrath City Hyundai. We're at 6750 W. Grande Ave. in Chicago, a short drive from Des Plaines and Berwyn, and we have the right Hyundai for you in stock. Let our salespeople show it to you today.