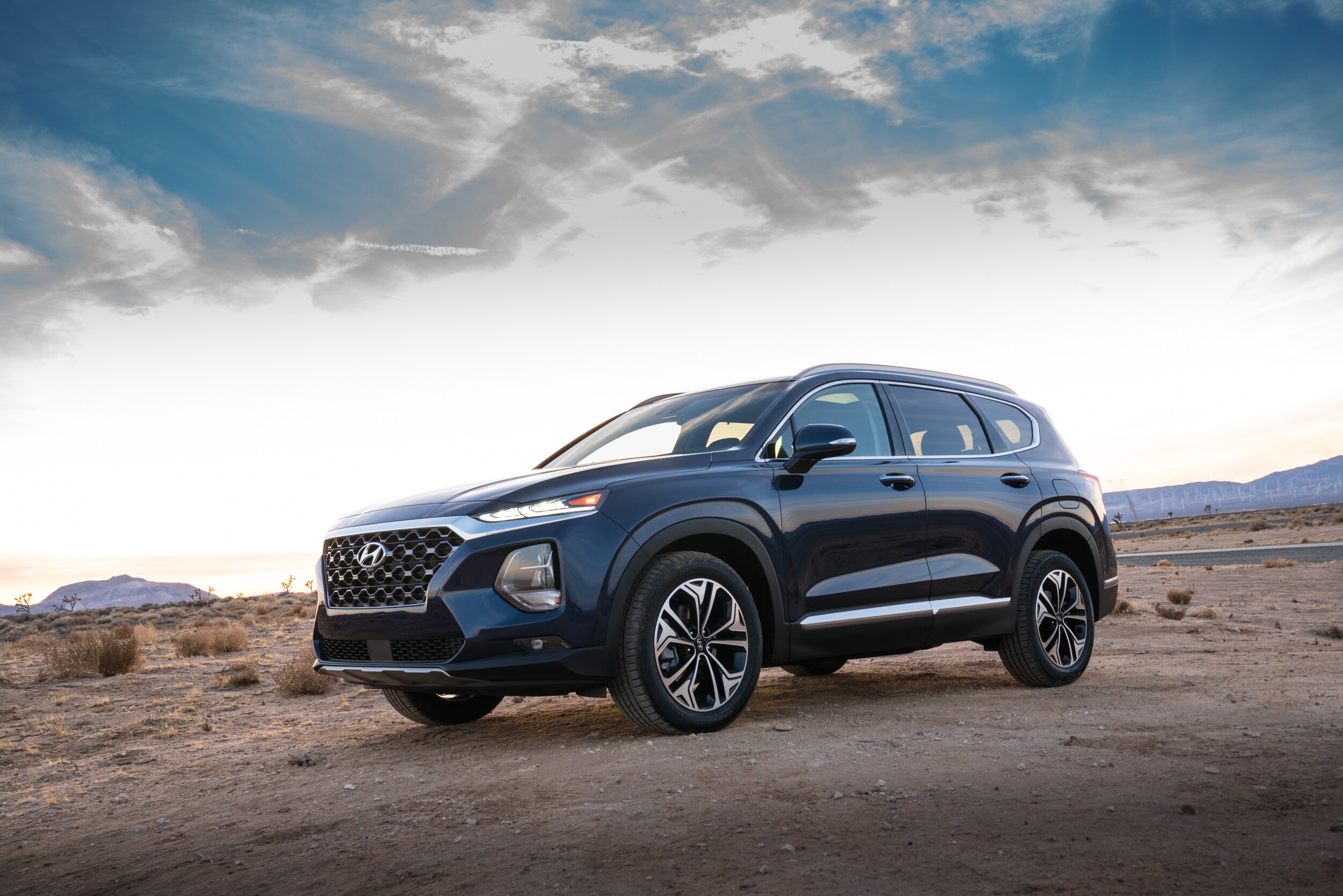 Hyundai has completely redesigned the Santa Fe for 2019, and the improvements are impressive. The 2019 Hyundai Santa Fe features aesthetic changes and new technology that improve safety, along with several engine options that offer varying levels of power.
(The 2019 Hyundai Santa Fe is taking the place of the
current Santa Fe Sport
, and the
2018 Santa Fe
is being renamed the Santa Fe XL in 2019.)
Safety Features for Driving and Parking
Hyundai has taken a comprehensive approach to safety, considering what can happen while the 2019 Santa Fe is parked as well as what might happen while it's being driven.
Safety While Driving
Most of the new features that improve on-the-road safety focus on increasing driver visibility. The standard and optional features include both the mundane and the highly advanced:
the redesigned exterior minimizes blind spots
an optional 8.5-inch, full-color heads-up display helps keep the driver looking forward
an optional 7-inch Supervision multifunction gauge cluster provides details at a glance
an optional 360-degree camera gives the driver an all-around view in tight spaces
standard LED headlights afford greater visibility at night
an optional driver attention system alerts the driver if it senses they're drowsy
Of course, these are in addition to the most common driver-assist aids that the 2018 Santa Fe can be outfitted with. Blind-spot monitoring, lane-keep assist, adaptive cruise control, rear cross-traffic alert and forward collision warning are all available. The rear cross-traffic alert and forward collision warning both come with automatic emergency braking.
Safety While Parking
For parking lot safety, the 2019 Hyundai Santa Fe comes with two highly innovative features.
First, a Rear Seat Occupant Alert system uses motion detection to check whether there are any children or pets in the back seat. If the system senses that a person or pet has been left in the rear seat after parking, Rear Seat Occupant Alert will honk the horn, flash the lights and send an alert to the driver's connected smartphone. On a hot day, this could be a life-saving technology.
Second, Safe Exit Assist temporarily keeps the doors from being opened if the system's sensors detect an approaching bicycle, motorcycle or vehicle. It'll prevent the driver and passenger from opening doors even if their door is unlocked. Depending on what's approaching, this feature might help prevent a fender bender or save a biker's life.
Three Engine Options for Varying Power Needs
The 2019 Santa Fe will initially be released with two engine options, and a third will be added in early calendar year 2019. The options are:
a 1.4-liter Theta that delivers 185 horsepower
a 2.0-liter turbo that delivers 232 horsepower
a 2.2-liter CRDi turbo diesel that'll produce around 200 horsepower
The CRDi turbo diesel is the first engine of this kind that Hyundai's offering in the United States, and it's also the one to get if you want to tow. Along with the 200 horsepower, the engine will produce around 320 pound-feet of torque. This is the option being made available in early 2019, so exact numbers aren't available yet.
Come See the 2019 Hyundai Santa Fe
To see the 2019 Hyundai Santa Fe, come see our dealership at 6750 W. Grand Avenue, Chicago once the model is released. At McGrath City Hyundai, we're just a short ways from Oak Park, Berwyn and Cicero, open six days a week, and will get a great selection of these vehicles in. As soon as we have 2019 Hyundai Santa Fes in stock, we'll be taking area residents for test drives.