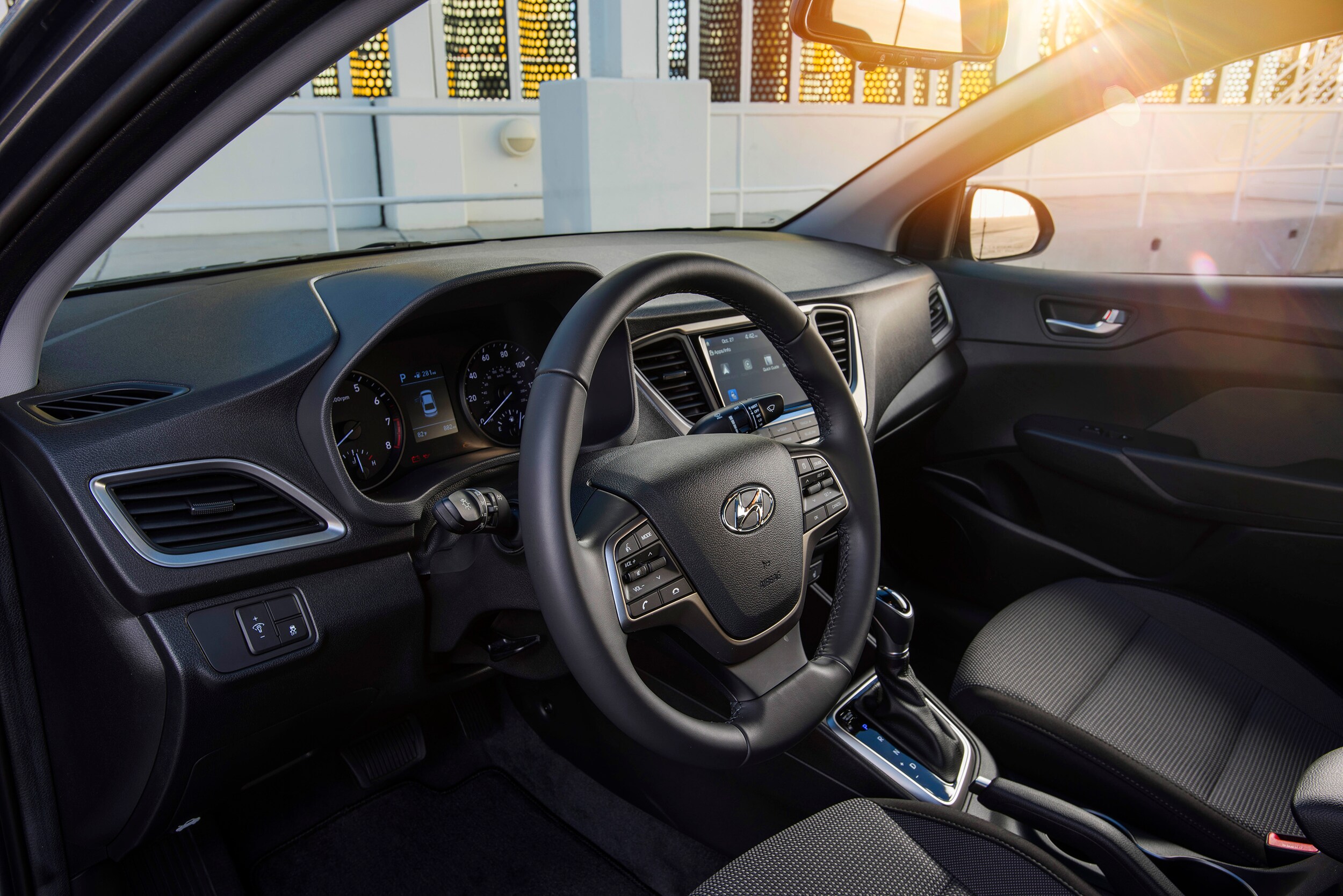 The 2019 Hyundai Accent is a stellar, all-around sedan that is roomy, safe, and fuel-efficient. This is a solid subcompact car that continually ranks at the top of its class for its great handling characteristics. But is it the right vehicle for you and your Berwyn household? To better help you understand whether or not this vehicle will nicely fit your needs in a new Berwyn vehicle:
4 Reasons to Test Drive the 2019 Hyundai Accent
Outstanding fuel economy. The 2019 Hyundai Accent comes outfitted with a four-cylinder engine that may not be known for being especially powerful, but it does have more low-end torque which improves its handling in urban areas -- a particular boon for those Berwyn drivers looking for a solid commuter to get to their Chicago workplace. But what makes the Hyundai Accent not just a solid choice for a commuter, but rather a superior one is the fuel economy that its powertrain gets. This model enjoys a very efficient 32 miles per gallon combined city and highway so that owners can go far on little.
Incredibly spacious. It might be classified as a subcompact car, but in truth, this vehicle comes outfitted with ample interior space that makes it feel more like a midsize sedan. It has an open, airy feel thanks to a dash that slopes forward to give the front-row more space than would otherwise be anticipated. Both front and second-row occupants enjoy excellent headroom with good sized legroom. Additionally, the 2019 Hyundai Accent gets a well-designed trunk that, despite being an around average-for-its-size 13.7 cubic feet big, its low loading height, low loading floor, and wide trunk opening combine to make the trunk feel more spacious than its numbers suggest and add to make it much more functional. Higher trims come with hands-free Smart Trunk technology that further makes loading and unloading a breeze.
Quiet and comfortable interior. Not only is the 2019 Hyundai Accent exceptionally spacious, but it is also one of the quietest and most comfortable models in its class. Its new generation design boasts the highest quality steel outfitted with premium insulative materials. Together, this results in a construction that significantly reduces (and in most situations eliminates altogether) the road noise that can be irksome to city and highway drivers. This quiet ride is well paired interior materials that are comfortable to sit upon and touch. Seats are comprised of durable materials are well-padded to give great support and further reduce road fatigue that might otherwise develop from long drives across the state.
Special Drive Mode selector. For those Berwyn 2019 Hyundai Accent buyers who opt for the automatic transmission, there is the special Drive Mode selector. This unique powertrain feature makes it easy for drivers to switch between a Normal driving mode and a Sport driving mode, which gives the vehicle a bit more horsepower, if at the cost of a slightly reduced fuel economy. Still, this is a cool feature to have for those drivers who want a bit more customization in their driving experience.
Test Drive the Drive Mode and Other Aspects of the 2019 Hyundai Accent Today at McGrath City Hyundai
The 2019 Hyundai Accent is a superb sedan that is a great fit for those Berwyn car buyers looking for a solid all-around vehicle that nicely meshes comfort with efficiency. Plus, it, as well as every new Hyundai sold at McGrath City Hyundai, comes with one of the auto industry's best warranty packages. Learn more about it and take this gorgeous subcompact sedan out for a test drive this week at McGrath CityHyundai.