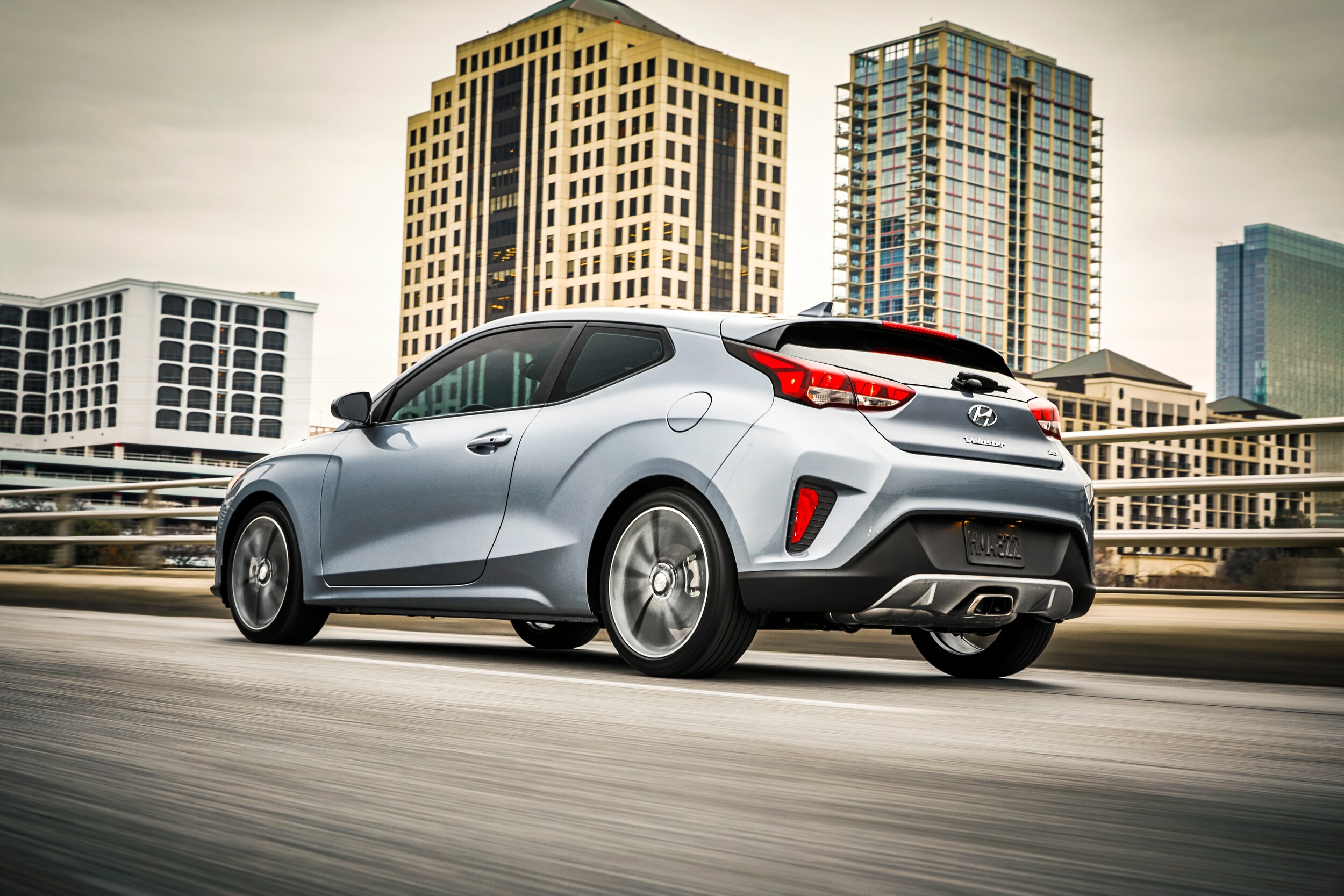 The 2019 Hyundai Veloster is a peppy hatchback that perfectly matches fun with function. The model's not just about the driving experience and cargo space, however. If you're (rightly) first and foremost concerned about safety, you'll be pleased with all of the standard and available safety features offered on the model.
All the Common Features
Of course, the 2019 Hyundai Veloster comes with all of the common safety items that you'd expect a new car to have. For example, there's advanced dual front airbags, front side-impact airbags, and curtain airbags. Anti-lock brakes, vehicle stability management, electronic stability control, traction control, and brake assist are also all on board.
Some Unique Extras
In addition to the typical suite, there are also a few unique items that most other vehicles don't offer (and you might not have thought of). Among the highlights are driver's blind-spot mirrors, which come standard on all trims not outfitted with blind-spot detection, and four-wheel disc brakes. Generally speaking, disc brakes are superior to the drum brakes that are found on some model's rear wheels.
Active Driver-Assists Come Standard
Driver-assist features are where the 2019 Veloster sets itself apart from other new models coming out this year. While many cars and hatchbacks have driver-assist features, the 2019 Veloster is particularly laden with active -- as opposed to merely passive -- features.
The complete list of standard driver-assist features that come on all 2019 Hyundai Veloster includes:
Forward collision-avoidance assist
Lane keep assist
Driver attention warning
While alerts and monitors are helpful, features that will actually intervene in the event of an emergency are even better.
More Driver Assists Are Available
For drivers who want even more of the latest automotive safety technology, there are several other driver-assist features that can be put on the 2019 Hyundai Veloster. Some of the options are:
Pedestrian detection for the forward collision assist
Blind-spot collision warning
Rear cross-traffic collision warning
Rain sensing wipers
See the 2019 Hyundai Veloster
Even though official safety ratings for this year's model aren't available yet, you can feel confident putting yourself, your friends and your family in the 2019 Hyundai Veloster. These many safety features will be helping keep you and yours well-protected every time you're on the road.
To see these features in person and experience the fun of the 2019 Veloster, take one for a test drive at McGrath City Hyundai. The dealership's 6750 W. Grand Ave. location isn't far from Oak Park or Berwyn, and you're able to take a test drive Monday through Saturday. Stop by, and see the hatchback that's fun, roomy and -- most important of all -- takes an active approach to safety.