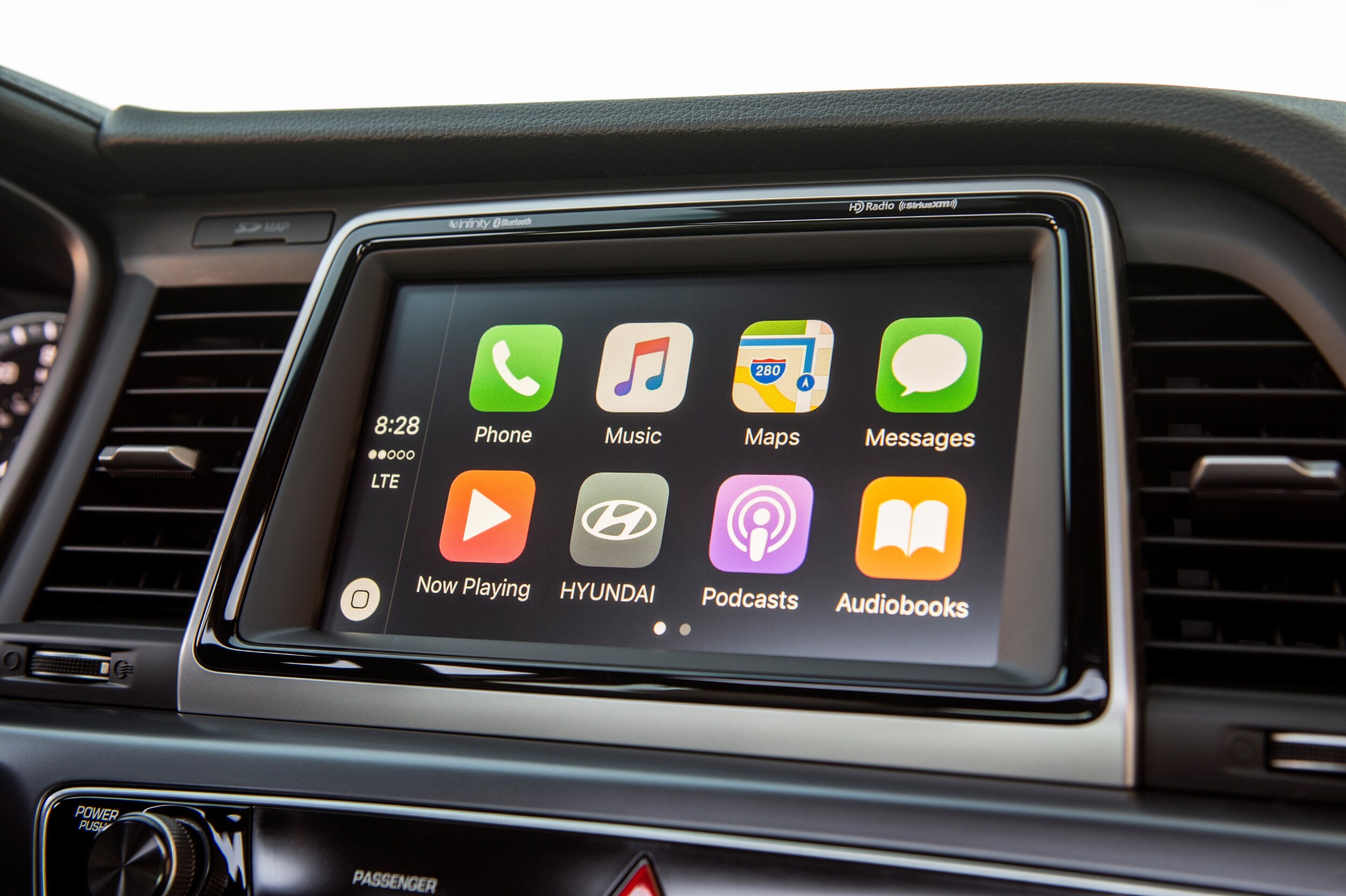 We live in the age of technology and so should it come as no surprise that our favorite tech tools are now being incorporated into our vehicles. Auto manufacturers like Hyundai have worked hard to make sure that upcoming models feature the latest and greatest in high-tech features that improve the safety, efficiency, and desirability of the vehicle. One such feature that you'll find in the latest Hyundai models is an infotainment system outfitted with Apple Car Play.
Apple Car Play is a type of in-dash software that is designed to allow users to easily make hands-free phone calls, send and receive text, get directions, play and cycle through music, podcasts, and more. Users can access it via car-oriented iPhone apps that boast a handsome and well-laid-out interface. But despite its wonderfully friendly interface, our team at McGrath City Hyundai certainly understands if you'd like the low-down on how this system works before you interact with it. Which is why we're here to provide you the following quick guide to Apple Car Play and what to expect with it:
The Basics of Apple Car Play & Using it in Your New Hyundai
Compatibility
One of the most common questions we get asked at our Hyundai dealership near DesPlaines is about iPhone compatibility. The Apple Car Play system is wonderfully versatile and capable of working seamlessly with every iPhone from the iPhone 5 and onwards. This includes base models as well as companion versions like the iPhone 5c, iPhone SE, and iPhone 8 Plus.
How Do I Get Apple Car Play
Generally, the system will come standard in every new Hyundai model currently released. Have an older model and want to get it installed? There are two different ways to go about having a system installed. First, vehicles that are just a couple years old will already have a built-in connected car system that allows for an easy system upgrade. Second, there are specialty aftermarket units for older models that can be installed into your vehicle.
Connecting Your iPhone to Car Play
The easiest way to connect your iPhone to the vehicle's inboard CarPlay system is to plug it into the dashboard with a Lightning connector cable. Your vehicle will need to be turned on, but once connected your vehicle will automatically connect your iPhone to the system and the CarPlay icon will pop up on the infotainment screen. Note that once your iPhone is connected to the system, its screen will become locked to eliminate the temptation a driver might have to use the phone while driving. Remember, that the Car Play system was instituted to help reduce distractions, improve car functionality, and improve safety.
In newerHyundai models and those outfitted with the Harman telematics systems, users may also be able to connect their iPhone via a wireless or Bluetooth system. Once your iPhone is connected, you'll enjoy support for over 20 popular apps like Spotify, Apple Music, Navigation, and much more.
Get Better Acquainted with the Apple Car Play System for Yourself at McGrath City Hyundai
Naturally, it is often easier to see how things work in person and when you have a friendly guide through the process. This is why we want to invite you down to visit our dealership of McGrath City Hyundai so that you can talk with one of our friendly and expert associates. Let us show you the ins and outs of this handy technological feature so that you can feel more confident in your vehicle and better enjoy your driving experience in and around Des Plaines and other Chicago-area neighborhoods and towns.