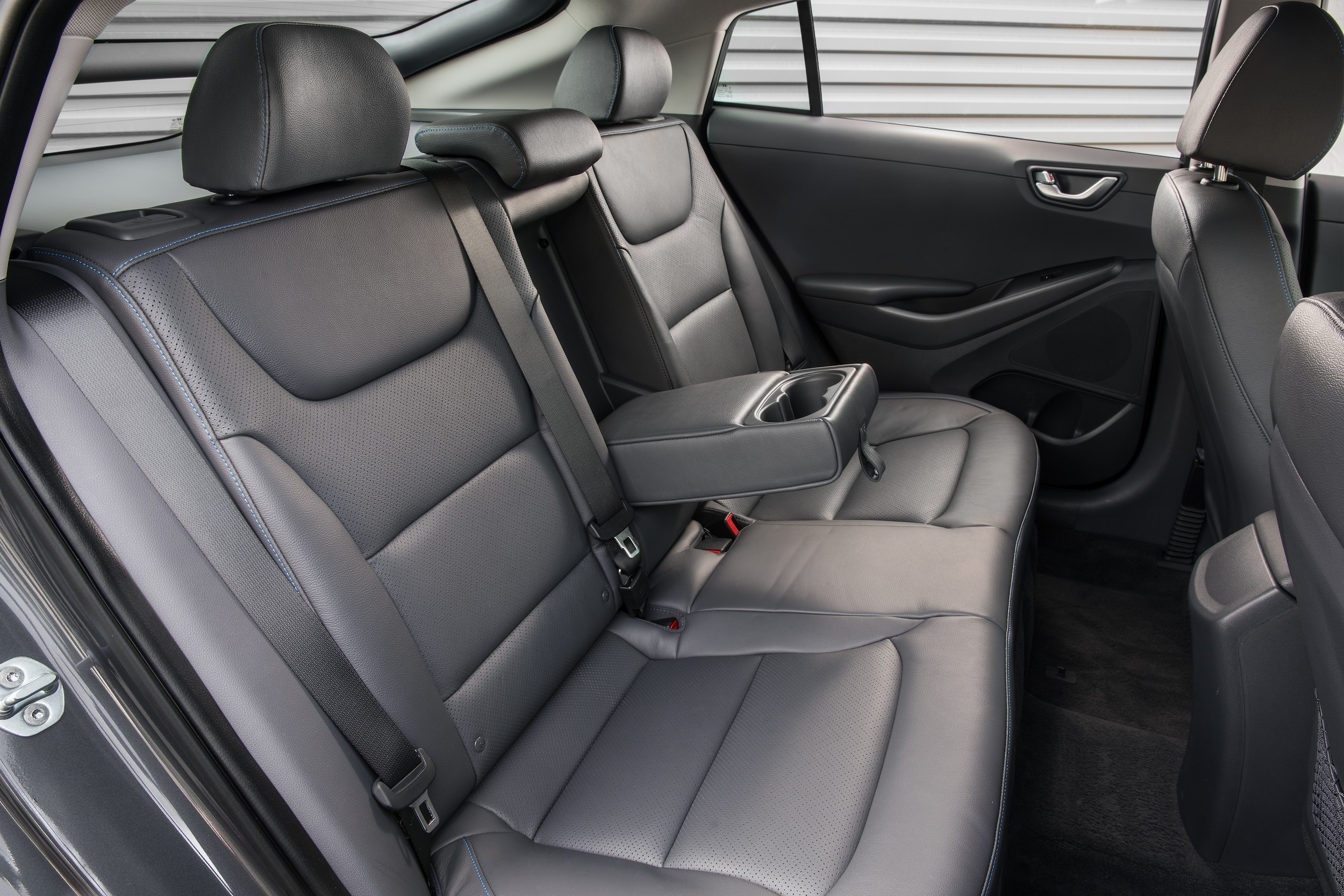 The 2018 Hyundai Ioniq is one of the most efficient alternative-fuel vehicles available, but you wouldn't know that from the model's design alone. For instance, the model has a six-speed automatic transmission that's more likely to be found in a traditional car than an alternative-fuel one (which often come with a continuously variable transmission). The difference between the 2018 Ioniq and other alternative-fuel models is also evident on the interior, where space and design are more like that of a traditional car than one that's this fuel-efficient.
Spacious Front Seats
Up front, the 2018 Hyundai Ioniq has a driver's and front passenger's seat that are comfortable and afford plenty of room. Even tall drivers and passengers don't feel cramped when they're seats moved back, for there's both enough headroom and sufficient legroom.
Although basic, the space in the front seats distinguishes the 2018 Ioniq from many competing vehicles. Most models reduce interior space, including in the front seats, in order to shed weight and minimize air resistance. The 2018 Ioniq, however, manages to accomplish the same goals without making the front-seat driver and passenger suffer.
Roomy Back Seats
The 2018 Hyundai Ioniq's back seats aren't quite as spacious as the front two, but they're still large enough to comfortably accommodate adults. There's enough headroom for taller backseat passengers, and legroom is fine so long as the front seat isn't pushed all the way back.
Class-Defying Cargo Capacity
Where the 2018 Hyundai Ioniq really departs from the competition is in its cargo capacity. The hatchback opens up to 122.7 cubic feet of cargo room, which literally defies what's allowed in the Ioniq's class. Even though critics treat the model as a compact car, the EPA reclassified it to a large-size one because it offers so much cargo room.
When all of this space isn't needed, the back seat can be left up and there's still 26.5 cubic feet of space for luggage or gear.
Sit in the 2018 Hyundai Ioniq
To see the 2018 Hyundai Ioniq for yourself, come to McGrath City Hyundai. Open six days a week and conveniently located at 6750 W. Grand Ave. in Chicago, McGrath City Hyundai is easy to get to from Cicero, Des Plaines, Oak Park and other nearby neighborhoods. Stop by when you can, and ask to take the model for a test drive. No dealership in the area has a better selection of the 2018 Ioniq.