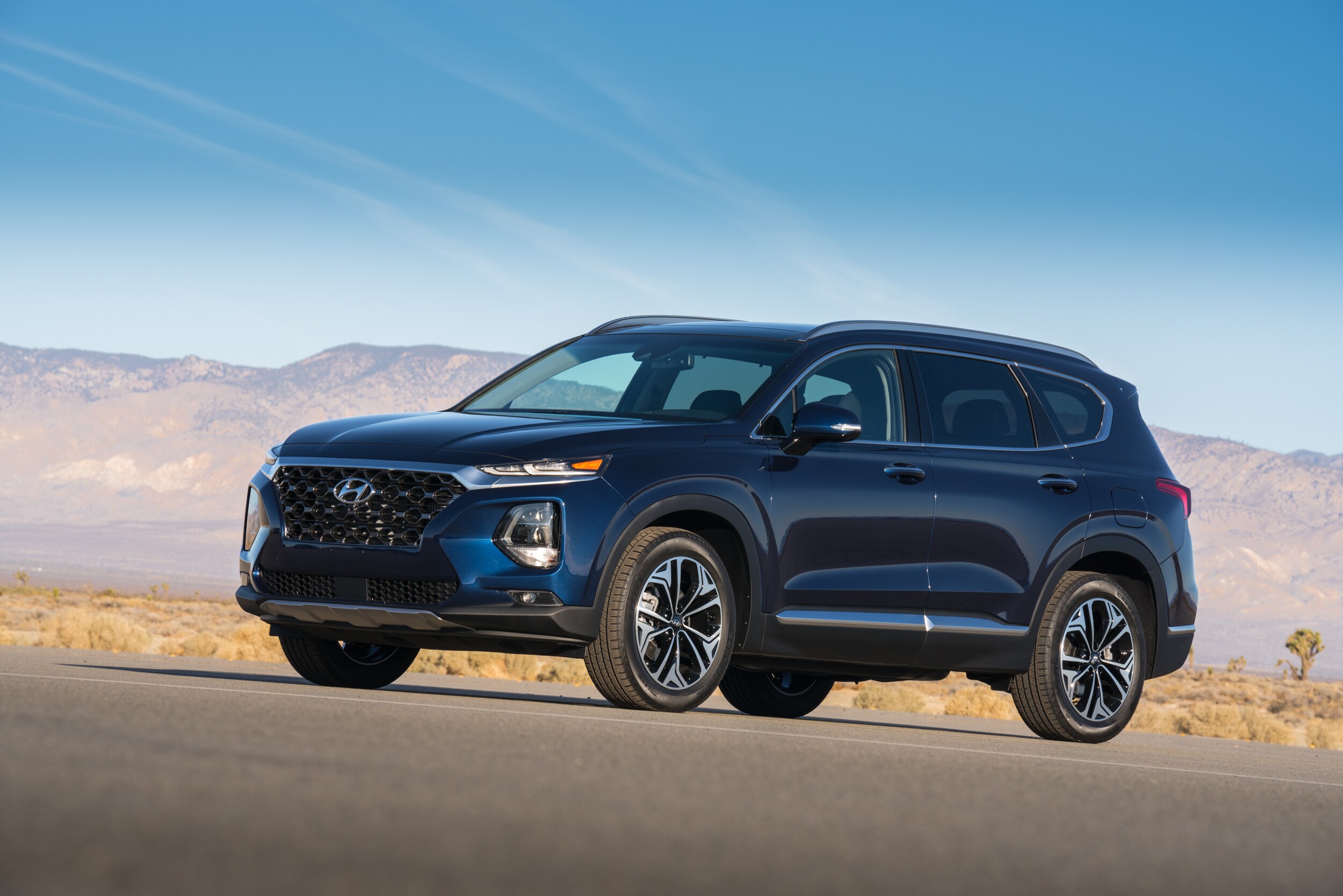 Times, they are a'changing and Hyundai is all in to change with them. For the 2019 production year, the auto manufacturer has made some pretty massive changes to its lineup which included having completely redesigned the midsize Hyundai Santa Fe. The following is a look at the differences between the two and what Cicero car buyers can expect when they go to their local Hyundai dealership to test out the latest Santa Fe model:



The 2018
vs. 2019 Hyundai Santa Fe: 5 Differences
Exterior. Visually speaking, there are some major differences between these two models and even non-car savvy individuals should be able to distinguish between the 2018 and 2019 Santa Fe versions. For the newer 2019 Hyundai Santa Fe, designers instilled more aggressive and modern facets. This version features a bolder, more upright grille with honeycomb vents. This grille is further accentuated by a chrome bar with slitted LED lighting elements at each tip. The vehicle's rear end also got a major facelift with a more concave tailgate boasting LED taillights.
Platform. If the 2019 Hyundai Santa Fe looks larger than ever, that's because it is! This production year model is built on a larger platform that boasts two extra inches of wheelbase and overall length.
Interior. In looking at the changes with the 2018 vs.

2019 Hyundai Santa Fe

, many will be found within the cabin itself. Hyundai engineers really transformed the look and feel of the cabin, but did so in some unique ways. For example, this year's Santa Fe model features a lower dashboard which has the effect of opening up the interior to create an airier, more spacious feel. Of course, it doesn't just feel more open, the 2019 Santa Fe is more open with that platform change providing for 1.5 inches of more second-row legroom.
Powertrain. The major powertrain change to the 2019 Hyundai Santa Fe over the 2018 version is the addition of an 8-speed automatic transmission where before there was only a six-speed transmission. Both the 2018 and 2019 Santa Fe models feature a 2.4-liter naturally aspirated four-cylinder engine that delivers 185 horsepower and 178 pound-feet of torque as the standard engine option. For those Cicero drivers who want a touch more power, there's also an available turbocharged version of the four-cylinder engine. Both the 2018 and 2019 Santa Fe models also feature front-wheel drive as standard with an available all-wheel drive that seems to be the preferred pick for

Cicero SUV buyers

.
Features. Another major difference in the 2018 vs. 2019 Hyundai Santa Fe is the number of standard features. While the 2018 Santa Fe came with plenty of great features, the 2019 model comes with even more -- especially in the safety feature. Driver assist technologies like Blind Spot Monitoring and Rear-Cross Traffic Alert were previously available only as optional upgrades but are now standard on the 2019 Hyundai Santa Fe. Apple CarPlay and Android Auto are also standard on every trim and operate through an enlarged 7-inch touchscreen display system. The range-topping Ultimate trim also gets an exciting standard head-up display and wireless charging system.
Test Out Both the 2018 and 2019 Hyundai Santa Fe at McGrath City Hyundai
Isn't it time to see the 2018 vs. 2019 Hyundai Santa Fe differences for yourself? Come down and visit us at McGrath City Hyundai where our team can talk to you personally about the changes made to this year and get you into the right year and trim level for your Cicero driving needs and budget. You'll find a large selection here at our dealership to browse through and choose from.