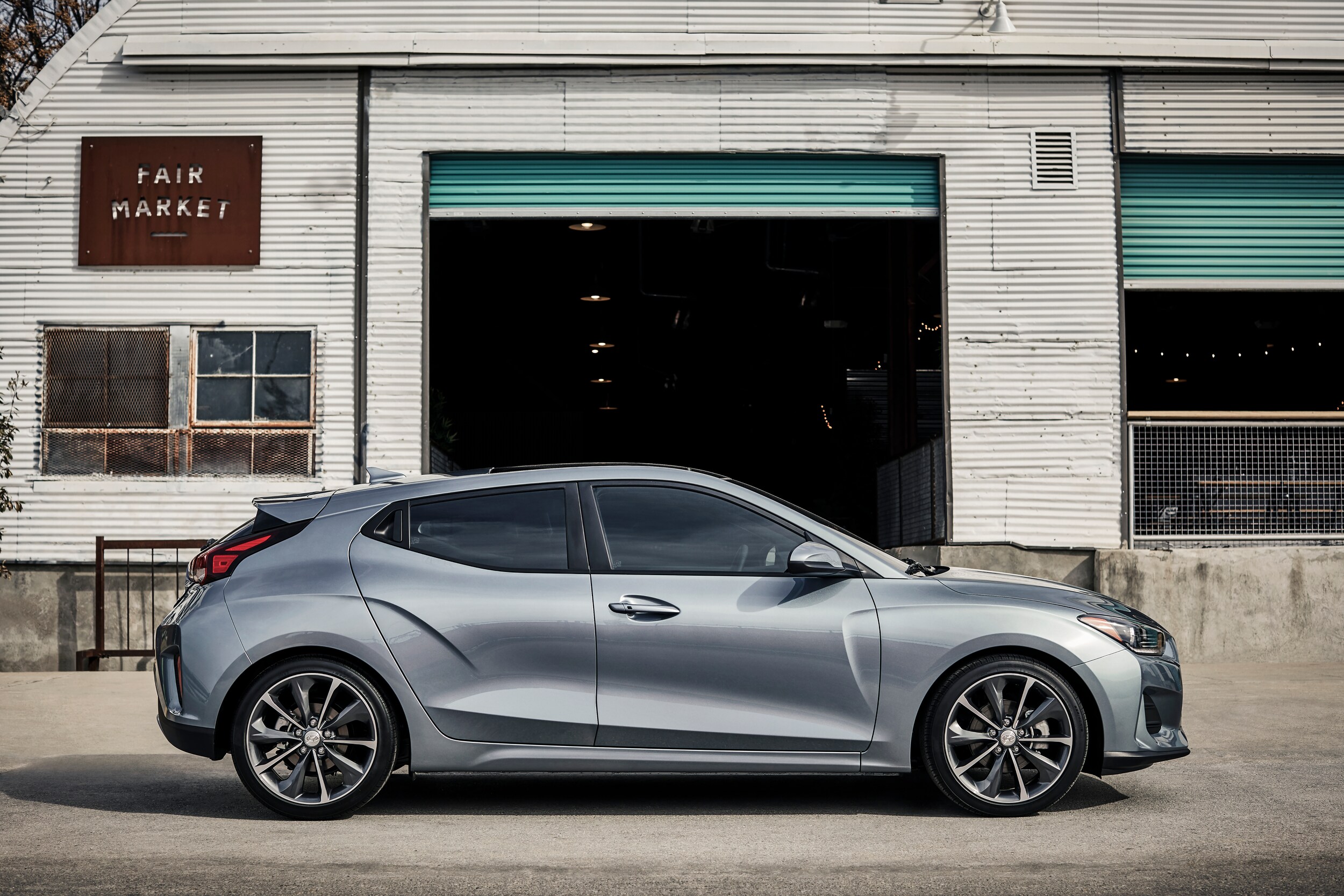 2019 Hyundai Veloster
The 2019 Hyundai Veloster is a stylish hatchback that really stands out in this growing segment. With great looks and an exciting array of features, this is a model that makes for a highly desirable daily driver. Or, thanks to its spacious cargo area, it's also a great choice for the weekend warrior who wants a versatile vehicle with high fuel efficiency to take on adventures outside of their Des Plaines neighborhood. Best of all, it's one of the most affordable vehicles in this segment! So for many looking for a capable hatchback, it won't be a question of whether or not to get the 2019 Hyundai Veloster but rather which trim of the model is best suited for them.
The following is a quick look at the most notable differences between each trim of the 2019 Hyundai Veloster to help such hatchback buyers make their decision:
2019 Hyundai Veloster: Comparing Trims
Base 2.0 Hyundai Veloster model. This is the only version of the three-door hatchback that features 17-inch wheels. Its 2.0-liter four-cylinder engine delivers an impressive 147 horsepower and 132 pound-feet of torque; numbers which mean this is a quick vehicle that doesn't feel slow or sluggish at the green light or when highway passing. This trim level comes equipped with a six-speed automatic transmission although Des PlainesVeloster buyers can opt for a six-speed automatic as well. The front dash is outfitted with a 7.0-inch touchscreen display with a comprehensive infotainment system that boasts Apple CarPlay and Android Auto connectivity, Bluetooth, a rearview camera, and is where safety features like lane keeping assist and forward collision mitigation system can be accessed. Other cool standard features on this base 2.0 trim include two USB ports and an impressive-sounding six-speaker sound system.
Premium Hyundai Veloster model. This version keeps the 2.0-liter engine but comes standard with the six-speed automatic transmission. It boasts extra safety equipment like blind-spot monitoring with rear cross-traffic alert as well as extra luxury features like automatic climate control, a sunroof, and -- particularly well-appreciated in this part of the country -- heated front seats. It also includes a larger 8-inch display screen, a standard wireless charging pad, and improved eight-speaker Infinity audio system.
Turbo R-Spec Hyundai Veloster model. Like to go fast? Then you'll love this trim level of the 2019 Hyundai Veloster that includes an exciting engine upgrade. Under the hood of the 2019 Hyundai Veloster Turbo R-Spec is a turbocharged 1.6-liter four-cylinder engine that delivers 201 horsepower and 195 pound-feet of torque. This is paired with a six-speed manual transmission and includes all the safety and luxury features of the Premium trim with practical upgrades like LED taillights and LED headlights with high-beam assist.
Turbo Hyundai Veloster. This trim includes everything in the aforementioned Turbo R-Spec model and adds a more premium seven-speed dual-clutch automatic transmission and the entire interior gets a special outfitting.
Turbo Ultimate Hyundai Veloster. This creme de la creme of Hyundai Veloster trim features the same turbocharged engine but with a six-speed manual transmission as the standard pairing. More notably, it comes equipped with top luxury equipment like full leather upholstery, a built-in navigation system, and a heads-up display system, as well as other exciting features.
See All the Trims of the 2019 Hyundai Veloster at McGrath City Hyundai
For a full rundown of all the included features and amenities of each trim version of the 2019 Hyundai Veloster, come down and visit us at McGrath City Hyundai. We're your local Hyundai dealership and are proud to offer a wide selection of Veloster trim versions for you to test drive!