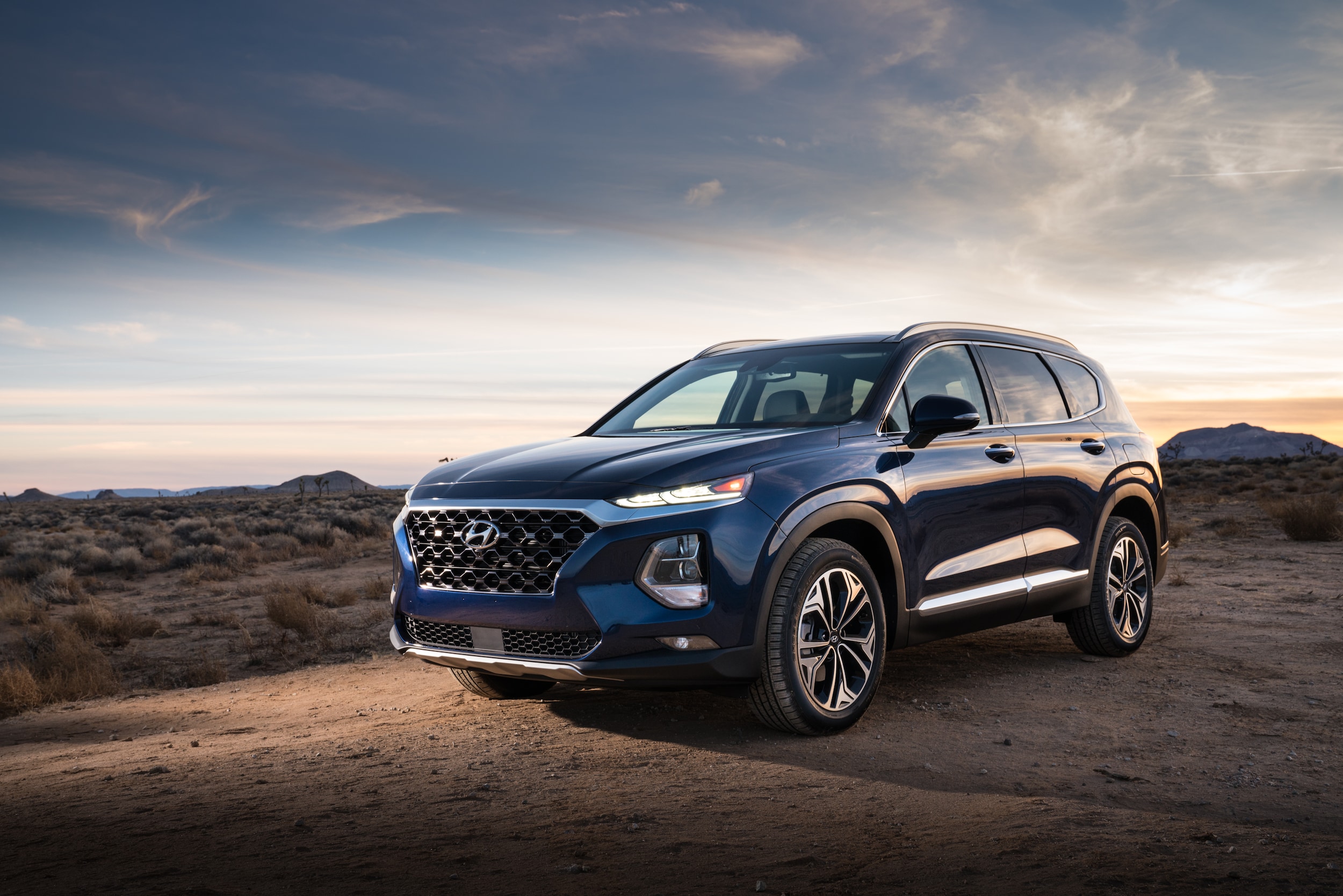 The 2018 Hyundai Santa Fe Sport won the highest safety awards in the industry, including a 5-Star Overall Rating from the NHTSA and a Top Safety Pick+ from the IIHS. The 2019 Hyundai Santa Fe (which is replacing last year's Santa Fe Sport) continues to build on this legacy of safety. The new 2019 Santa Fe comes with even more safety equipment than the 2018 Santa Fe Sport had.
All the Essential Equipment
The foundation of the 2019 Santa Fe's safety equipment is laid by a full array of all the basic features you'd expect a new vehicle to have. Multiple airbags, anti-lock brakes, electronic stability control, traction control, and vehicle stability management certainly aren't the most exciting features to talk about, but they are some of the most important. Even in the age of advanced driver-assist features, a solid foundation is still essential.
Hyundai SmartSense Comes Standard
Hyundai SmartSense is the 2019 Santa Fe's biggest improvement, and it certainly is a major step forward. SmartSense includes a combination of driver-assist aids and other innovative aids to help keep everyone inside the vehicle as safe as possible -- including when the vehicle is moving and when it's parked. All of these features come standard on every 2019 Santa Fe trim.
On the driver-assist front, SmartSense includes:
Forward collision avoidance with pedestrian detection
Rear cross-traffic collision avoidance
Blind-spot collision avoidance
Lane keep assist
High beam assist
Driver attention warning
Smart cruise control with start/stop
These features alone make SmartSense one of the most comprehensive driver assist suits offered by any automaker, and the extensiveness of the list is virtually unmatched among lower-level trims. In addition to these, there are two singular items that could help save a life when the vehicle is parked.
First, safe exit assist helps prevent potential injuries caused by passing traffic. The class-exclusive feature is activated when the vehicle is parked and the child door locks are turned on. Once activated, safe exit assist monitors for traffic that's approaching from behind. It'll automatically lock the doors if any is approaching, unlocking them only once it's safe to exit the vehicle. Thus, children in the back seat are stopped from exiting when they might be struck by an oncoming car or truck.
Second, Hyundai is the first automaker to offer rear occupant alert. Also designed to protect back seat passengers, rear occupant alert uses an ultrasonic detector to check the back seats for passengers whenever the driver exits the vehicle. If any people or pets are detected, the feature will issue an audible and visible alert to remind the driver someone's in the back seat. For added measure, a reminder is also sent via Blue Link if anyone is detected.
Heads-Up Display Optional
On select trims, a heads-up display that helps the driver keep their eyes on the road is available. While not as essential as the above-mentioned driver-assist features that come standard, this is yet another available option that adds an extra level of protection.
All-Wheel Drive Optional
For drivers who do a lot of winter driving, which is just about anyone in Cicero, Oak Park or any other Chicago neighborhood, all-wheel drive is optional on all 2019 Santa Fe trims. With four-wheel traction, getting around it becomes a lot less risky.
See the 2019 Hyundai Santa Fe
If you'd like to see how the 2019 Santa Fe's safety equipment works in person, come to McGrath City Hyundai at 6750 West Grand Ave. in Chicago. Salespeople are here six days a week to show you what makes this such a safe SUV.