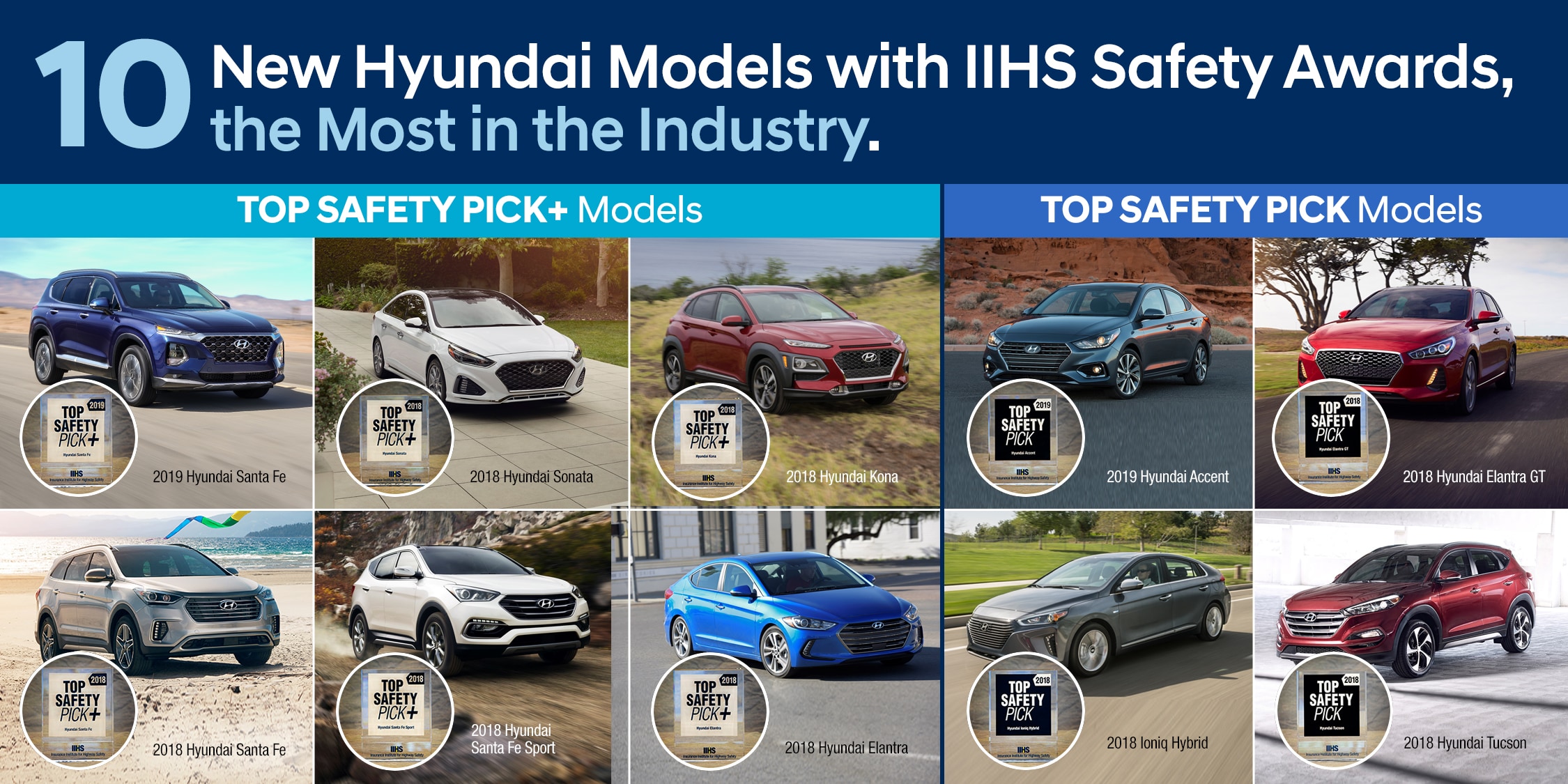 What good is being on the leading edge of technology and innovation if we can't use that same technology and innovation to improve and save lives? Here at McGrath City Hyundai, we firmly believe in selling not only the most reliable and desirable vehicles but also the safest. It's why we are so proud to be an authorized Hyundai dealership because when it comes to safety, no one beats Hyundai. Just take a look at this list compiled by the Insurance Institute for Highway Safety that shows the Hyundai Motor Co. led the pack in 2018 with an astounding six Hyundai vehicles in the Top Safety Pick+ category.
What it Means to Be the Best in Safety
So what does that mean though? Well, the IIHS awards categories on a variety of collision testings. This includes actual collision testings that show how well a vehicle is at protecting occupants in a collision in which the vehicle is hit on the front end, driver-side small overlap, both sides, and more. The tests examine the roof strength and head restraint. To qualify for the creme de la creme Top Safety Pick+ award, vehicles must achieve a good rating for their headlights and either acceptable or good rating in the all-new passenger side small overlap crash tests.
Of course, these aforementioned Top Safety Pick+ listings by the IIHS are just the start of the outstanding amount of awards and accolades Hyundai vehicles have won for safety in recent years. You can read more about the various safety,reliability, and customer appreciation designationshere.
Hyundai Vehicles: Going Beyond Collision Safety & Preventing Accidents
While both the IIHS and National Highway Traffic Safety Administration test primarily for how well a vehicle protects its occupants, thanks to today's exciting technologies, they have also begun testing how well vehicles are at preventing such collisions from occurring in the first place. Known generally as driver assist technologies, the following are a few of these advanced and multifaceted systems that make driving a safer and more enjoyable experience:
Blind-spot Detection. Things can get crazy here in Chicago as drivers on these streets have to be wary of not just locals who are eager to zip between lanes in their efforts to escape traffic, but also tourists who have no idea what exit they need to take. As such, changing lanes can get stressful but with blind-spot detection, you can enjoy a much greater level of confidence about it. This unique feature is comprised of a radar system that detects vehicles in both your left and right lane, when you turn on your blinker and it detects a vehicle in the given lane, the system will alert you.
Rear Cross-Traffic Alert. This system utilizes another series of sensors to monitor the objects behind the vehicle and will alert you if it detects you might hit something while going in reverse. For example, if you're backing out of a tight parking spot and another vehicle, bicycle, or even pedestrian comes running out behind you, the rear cross-traffic has an alarm that will warn you.
Lane Departure Warning. We all know that driving while drowsy or distracted is a recipe for disaster. Well, with this feature on Hyundai vehicles, you'll have a tech back-up that will alert you should its radars detect that the vehicle is shifting out of the lane.
Test Out These Features & Other Safety Features in Hyundai Vehicles at McGrath City Hyundai
For more information about these and other driver assist safety features and equipment, come down and visit us at McGrath City Hyundai. We are your local Chicago dealership!