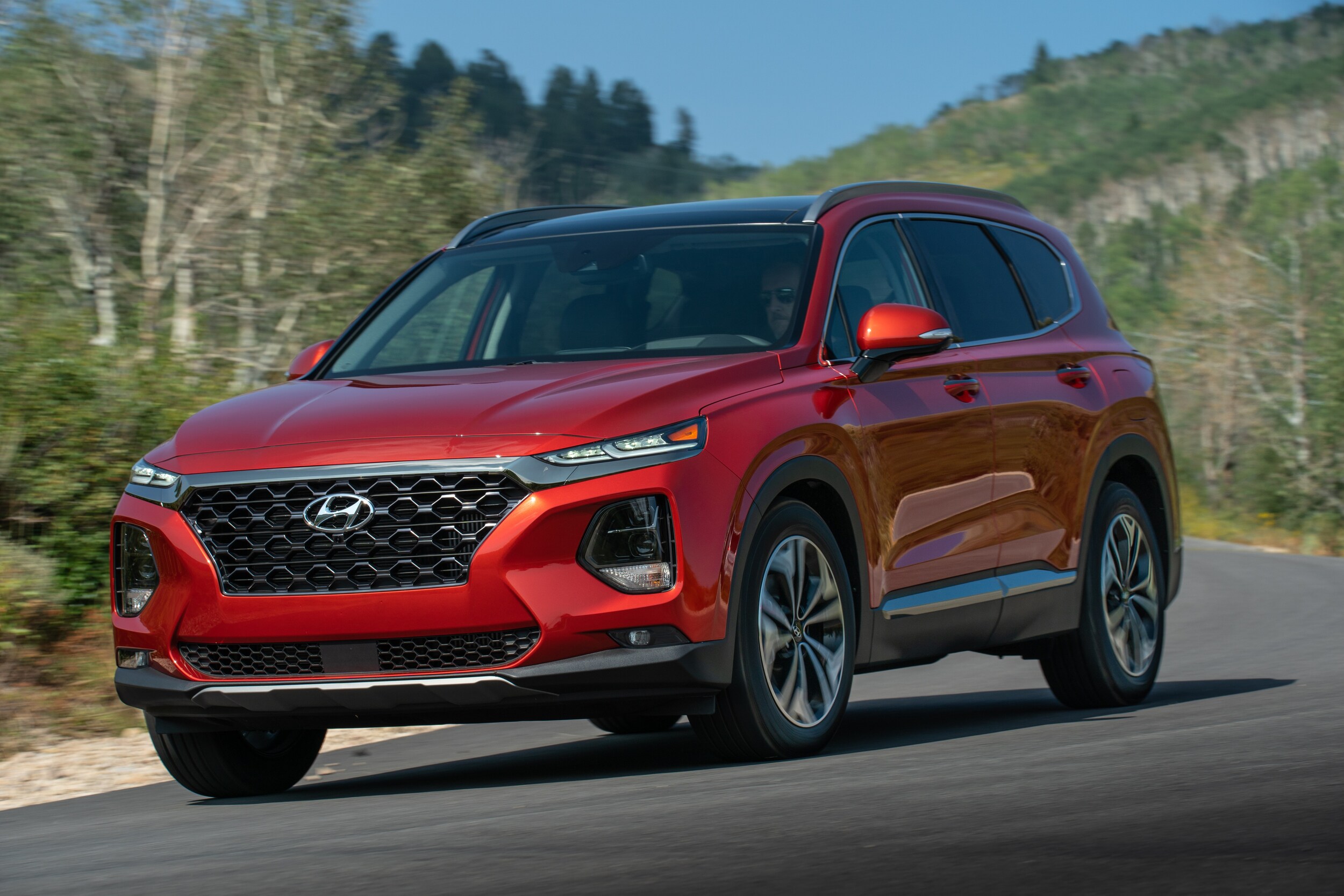 The 2019 Hyundai Santa Fe is a well-designed SUV that comes with lots of standard features, including Apple CarPlay, Android Auto and a suite of driver-assist features. Nevertheless, there are a few must-have features that don't come standard. If you're purchasing a 2019 Santa Fe, strongly consider upgrading it with these three specific items.
All-Wheel Drive
All-wheel drive is available on every 2019 Santa Fe trim, and adding it is a no-brainer if you're regularly driving around Chicago.
An all-wheel-drive system increases the model's MSRP by $1,700, but that's a small price to pay for extra traction during inclement winter weather. Sliding off the road just once could easily cause $1,700 worth of damage, not to mention put you and your passengers in a potentially dangerous situation.
SEL's Winter Amenities
For more comfort and warmth in winter, get at least the 2019 Hyundai Santa Fe SEL. The second trim of the lineup, the SEL version costs just $2,100 more than the base-level SE trim before discounts. For that small price increase, you get heated front seats, heated mirrors and keyless entry and ignition.
If you've never had these features before, take a 2019 Santa FE SEL for a test drive and see firsthand how nice they are. Even on brisk fall days, they make a ride much more enjoyable. When it's snowing, blowing and below freezing, the features become nearly essential.
All higher trims, including the SEL Plus, Limited, Limited 2.0T, Ultimate and Ultimate 2.0T also have this trio of warmth-providing features. The 2019 Santa Fe Ultimate and Ultimate 2.0T add heated rear seats as well.
Turbocharged Engine
While the standard 2.4L engine is more than sufficient for most driving, you'll want to upgrade to the optional 2.0L turbocharged workhorse if you plan on towing anything. The turbocharged increases power by 50 horsepower and 82 pound-feet of torque, and you'll immediately appreciate the extra oomph as soon as a trailer is hitched on.
If you don't expect to tow anything, the turbocharged engine is nice but not necessary. You might even prefer the standard engine for it's better fuel economy. Its combined EPA fuel economy is 3 miles per gallon better than the turbo engine's numbers.
Find Your 2019 Hyundai Santa Fe
To find a 2019 Hyundai Santa Fe that has all the features you want, visit McGrath City Hyundai. The dealership is open Monday through Saturday and just minutes from Berwyn, at 6750 W. Grand Ave., Chicago. Most importantly, there are lots of 2019 Santa Fes available for you to check out. Let the sales team help you find the perfect one, or ask them to order you a custom-designed one from the factory.