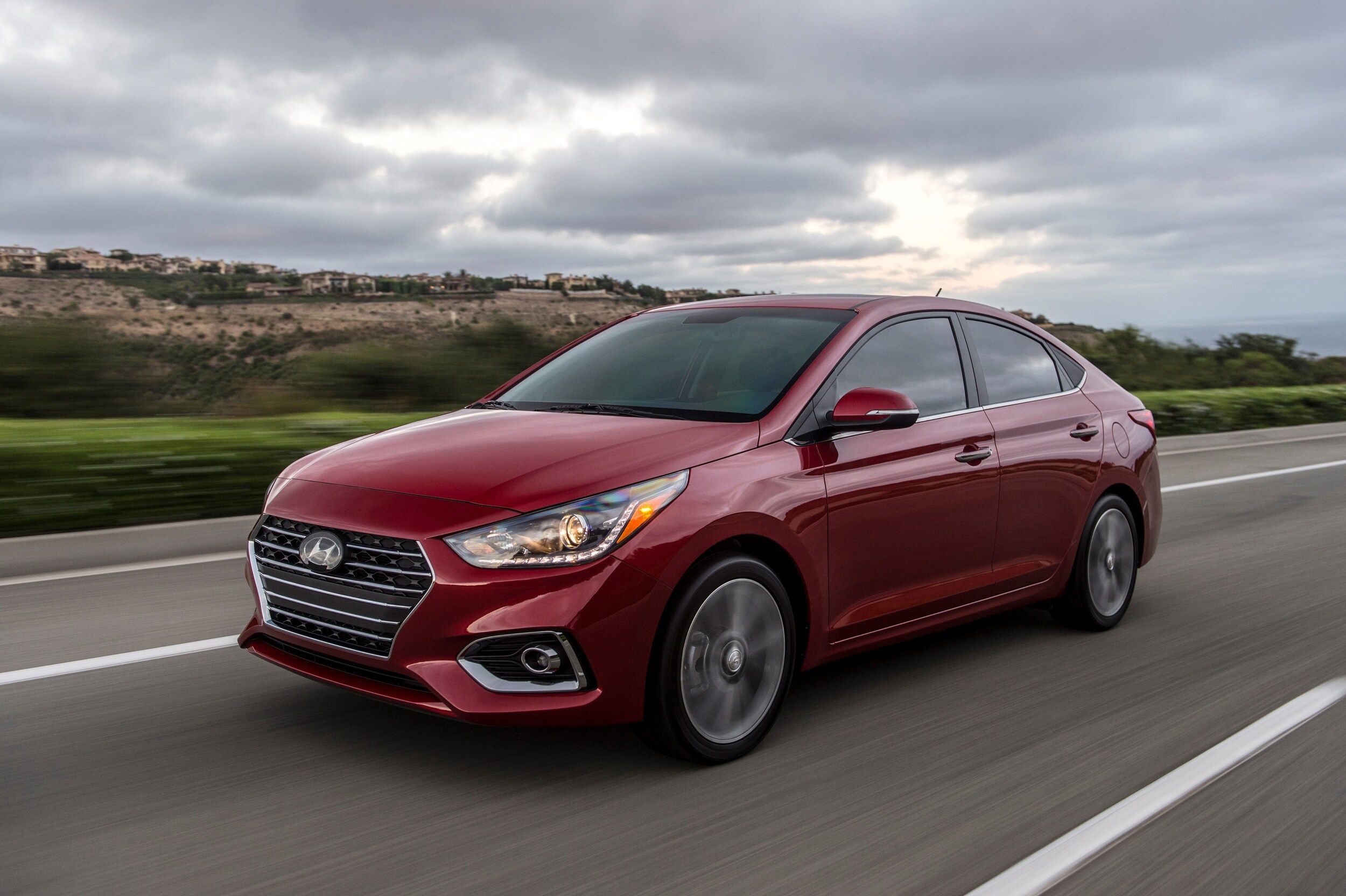 In a world of minivans and crossover SUVs, it's easy to overlook the first family vehicle: the family sedan. Sedans are excellent choices for those smaller families who want something more economical, easy-to-drive, safe, and backed up with extra warranty protection. If that sounds like the type of vehicle you want to add to your Chicago household, then we think you should take a gander at the newly released 2019 Hyundai Accent.
The 2019 Hyundai Accent is a stellar compact car that starts at an MSRP of just under $15,000! And that affordable price certainly does not mean this vehicle was built cheap. Just the opposite as this is an incredibly well-built vehicle that is safe, secure, and backed up with one of the best warranties in the country.
A Look at the Safety & Security of the 2019 Hyundai Accent
The 2019 Hyundai Accent comes available in three different trims: The base SE, SEL, and Limited trims. Every trim, including the SE, comes with the following outstanding safety features:
Electronic stability control (ESC). Have you ever felt the wheels slip beneath you, such as when driving over slick ice? The ESC is a special system designed to help you in such situations as it slows the appropriate wheel to redirect the vehicle and keep the vehicle on the correct course.
Traction control system (TCS). Another system designed to prevent the driver from losing control of the vehicle, the TCS in the 2019 Hyundai Accent applies brakes to each wheel and routes power to the wheel it detects has the most traction to keep or regain overall stability.
Vehicle stability management system (VSM). This is an integrated active vehicle safety system that coordinates and optimizes the primary electronic systems of brake assist, electronic stability control, traction control system, anti-lock braking system, and electronic brake-force distribution for optimum stability.
Four-wheel, four-channel anti-lock braking system (ABS). This system helps ensure the vehicle stops quickly and smoothly without skidding or loss of control in the event of sudden braking.
Advanced tire pressure monitoring system. This built-in system monitors the air pressure of your tires and will alert the driver should they be under or overfilled. Keeping tires at their proper pressure helps improve their longevity, reduce the risk of punctures, and improves the vehicle's overall handling and fuel economy.
Specially designed crumple zones. The 2019 Hyundai Accent was specially engineered with front and rear crumple zones that minimize the risk to occupants in the event of a collision. This outstanding design in combination with other passive and active safety equipment lent the model to performing outstandingly in its in-house and third-party crash testings. The IIHS has named the model a 2019 Top Safety Pick for its strong performance in its extensive testings.
Rearview camera. Every model of the 2019 Hyundai Accent also comes standard with a rearview camera that can be accessed via the car's central 5-inch touchscreen display screen.
Chicago car buyers who opt for one of the two higher trim levels of the 2019 Hyundai Accent will have access to even more advanced safety equipment and systems. This includes a special blind spot mirror and a built-in system that assists when driving up steep hills.
Learn More About the 2019 Hyundai Accent at McGrath City Hyundai
To learn about all of the available and optional driver assist programs and safety equipment available on the 2019 Hyundai Accent, come on over and visit your local dealership of McGrath City Hyundai. Our team is always here to answer your questions and help you find that perfect model for you, your family, and your budget.