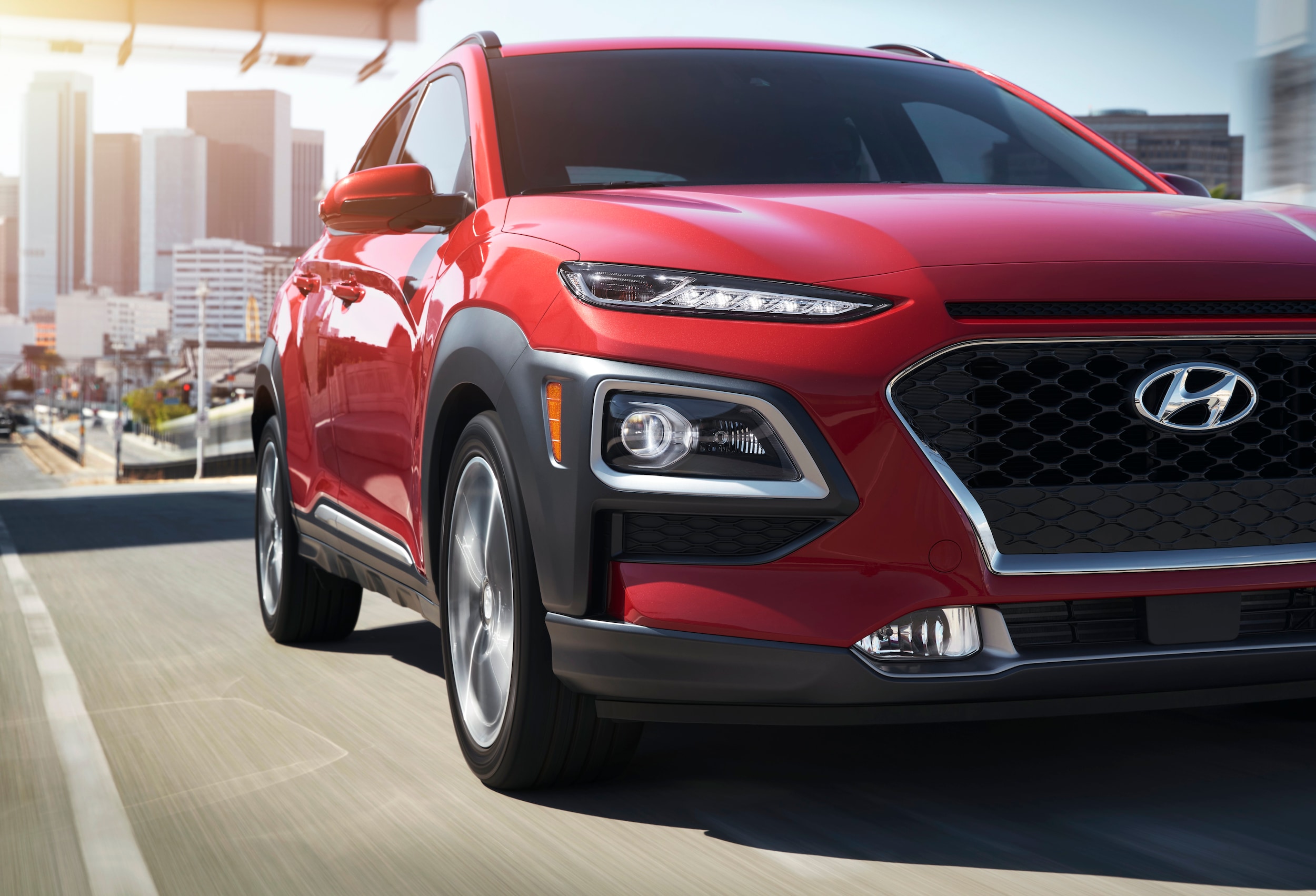 The 2019 Hyundai Kona and the 2019 Hyundai Santa Fe are both popular two-row SUVs, and they each offer solid safety, reliability, and features. In certain situations and for certain purposes, however, each has its own distinct advantages over the other. If you're in the market for a two-row SUV, here's how to pick between the 2019 Hyundai Kona SUV and the 2019 Hyundai Santa Fe SUV. (With the addition of the new 2019 Hyundai Santa Fe XL, the 2019 Santa Fe now seats five rather than eight.)
Safety, Reliability, and Features: Either One
Whereas many vehicle decisions are made simpler by safety, reliability and/or feature considerations, these areas won't make your choice between the 2019 Hyundai Kona SUV or the 2019 Hyundai Santa Fe SUV any clearer. Both models:
Were named 2019 Top Safety Pick+s
Come with America's Best Warranty
Offer multiple trims with numerous feature options
In short, both are great vehicles and you're bound to be pleased with either one you choose. Nonetheless, there are situations where one is definitely preferable to the other.
For the Budget-Minded: 2019 Hyundai Kona SUV
Simply because the 2019 Hyundai Kona SUV is smaller and has less power (see towing) than the 2019 Santa Fe SUV, the 2019 Kona is priced significantly lower than its bigger sibling. MSRPs for 2019 Hyundai Kona SUVs start at just $19,990, whereas prices for 2019 Santa Fe SUVs start around $25,500.
Although the 2019 Santa Fe is an excellent value for everything it provides, the 2019 Hyundai Kona is the way to go if budget is your primary concern. Even with potential discounts taken into account, a $5,000-plus MSRP difference is significant.
For the Urban Driver: 2019 Hyundai Kona SUV
When it comes to urban driving, the 2019 Hyundai Kona SUV's smaller size once again creates an advantage.
The 2019 Santa Fe can certainly be driven around city streets, for it's still much smaller than most three-row SUVs. The 2019 Kona is 23.8 inches shorter, though, and that makes a big difference when fitting into tight parallel parking spots or maneuvering around crowded roadways.
For the Driver with Stuff: 2019 Hyundai Santa Fe SUV
The same difference in length that gives the 2019 Hyundai Kona SUV an advantage on city streets makes the 2019 Santa Fe SUV preferable if you have lots of stuff to move. Cargo space in the 2019 Santa Fe measures 35.9 cubic feet and can be expanded up to 71.3 cubic feet. The 2019 Kona offers 19.2 cubic feet, which can be increased up to 45.8 cubic feet.
For the Driver Who Tows: 2019 Hyundai Santa Fe SUV
As far as towing trailers is concerned, the 2019 Santa Fe SUV is the model of choice. The 2019 Hyundai Kona SUV isn't rated to tow a trailer, but the 2019 Santa Fe can pull up to 3,500 pounds. Standard towing is 2,000 pounds, with the 2019 Santa Fe Limited 2.0T and Ultimate 2.0T offering the extra capability.
Compare the Two Hyundai SUVs
If you're still unsure which of these two SUVs is right for you, take each for a test drive at McGrath City Hyundai. The dealership is at 6750 W. Grand Avenue, close to Berwyn and Oak Park, and salespeople are able to show these vehicles six days a week. Stop by, and check out each one to see which better meets your needs and preferences.