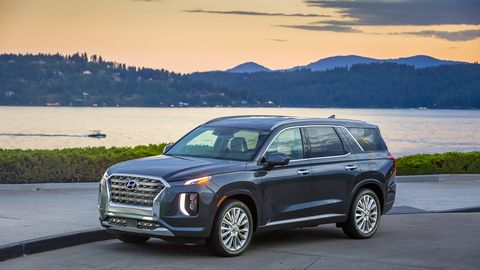 As Hyundai begins to roll out its newest generation of vehicles in the coming months, drivers have a lot to be excited about. All-new Hyundai vehicles will continue to offer excellent value and come with America's Best Warranty, and a number of the company's models will see either complete redesigns or moderate refreshes that bring on board noticeable enhancements. Most notable of all, a brand-new crossover will debut. If you're waiting for the next generation of Hyundais before you make a purchase, here's what to expect in 2020.
Remaining True to Hyundai's Core Values
Of course, Hyundai will continue to remain true to its core values that have made the brand so popular. No matter what 2020 Hyundai vehicle drivers select, they know they're going to get something that's a great value, will be reliable for a long time and comes with the best warranty coverage in the country.
Drivers will also continue to receive top-level service from all official Hyundai dealerships. For residents of Oak Park, Berwyn, Des Plaines and other nearby communities, McGrath City Hyundai at 6750 W. Grand Ave., Chicago, Illinois will continue to provide customer-first sales and service six days a week.
Fully Updating Four of the Most Popular Hyundai Vehicles
For four beloved Hyundai vehicles, the coming year will bring a complete refresh. The company's engineers have completely redesigned the:
2020 Hyundai Palisade, with many new features worthy of a luxury-level three-row SUV
2020 Hyundai Sonata, with a more athletic stance and added safety features
2020 Hyundai Sonata Hybrid, the multi-fuel version of its gasoline-powered counterpart
Moderately Redoing a Couple of Models
A pair of Hyundai cars will see moderate reengineering updates under the hood when the new models release.
The 2020 Hyundai Accent will feature an engine with dual-port injection (DPI) design and the company's Smartstream Intelligent Variable Transmission (IVT), rather than the 2019 versions gasoline direct-injection engine and 6-speed automatic transmission. The changes will result in substantial fuel economy gains, with the 2020 Accent getting an EPA-estimated 33 city and 41 highway miles per gallon. (The 2019 Accent sees 28 city and 38 highway mpg.)
The 20202 Elantra will likewise switch to Hyundai's IVT, improving fuel economy to 35 combined miles per gallon with this transmission. That's a 2-mpg gain over last year's model.
Releasing the First-Ever 2020 Hyundai Venue
The highlight of the new Hyundai vehicles is the 2020 Hyundai Venue, which is a crossover that's designed for city driving. The model comes well-equipped with safety and connectivity features, and it's well-designed to be both highly useful yet easy to navigate through traffic.
See the New 2020 Hyundai Vehicles
To see the new 2020 Hyundai vehicles, including the 2020 Hyundai Venue, visit McGrath City Hyundai this fall. The dealership will be getting all of these models as they're made available.