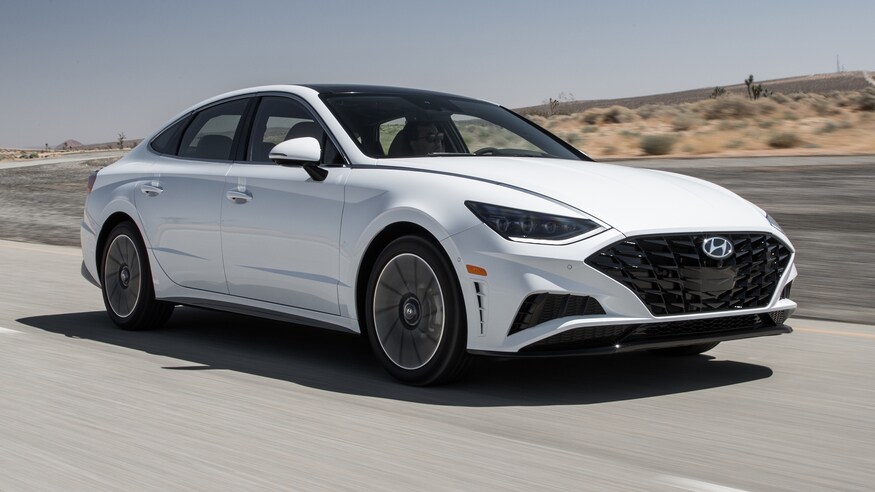 The Sonata has long been one of Hyundai's flagship and most popular sedans. This is a midsize sedan renown for offering a gorgeous look inside and out, a ton of safety features, and one of the most generous warranty packages in the industry -- a warranty package that assures you that when you buy a Sonata, you are buying a solid model that will last you a long time and many drives. Well, now this model is better than ever thanks to all of the updates Hyundai has made for the latest production year model: The 2020 Hyundai Sonata. Already on the way to your local Chicago dealership, here's what you have to look forward to with the new and improved 2020 Hyundai Sonata:
Top Features of the Redesigned 2020 Hyundai Sonata
Sportier and more unique exterior. Hyundai pushed the envelope this year in regards to this sedan's body design. The dimensions were changed to add an inch in width and to make the model sit an inch lower, giving the model an overall more sports car-like appearance and feel. In fact, the entire wheelbase was stretched out an inch to add an overall two inches in length. While inches may not seem like a lot on paper, they matter when it comes to performance, aerodynamics, and interior comfort. The 2020 Hyundai Sonata both looks and feels significantly sportier and now sports an elongated hood, flared wheel arches, aggressive grille, and daytime running lights that run the full length of the hood.
More driver-oriented front-row. The changes did not stop on the outside. Inside, this sedan boasts a radically changed cabin that is more driver-focused. For example, there is a new steering wheel design that is more ergonomic, built for premium driver comfort. Furthermore, a new push-button shifter replaces the older, traditional shift lever and all the heating, cooling, and ventilation controls boast dial screens that nicely display temperature settings and adjustments.
Your phone can be your key. One really unique and forward-thinking feature for this car that tech-lovers are really excited about is that you no longer need to use a physical key of any kind for this vehicle. Instead, owners of the 2020 Hyundai Sonata can use their smartphone as a digital key via Bluetooth and near-field communications system. Simply hold your phone near the door and it will lock and unlock and once inside the vehicle, your smartphone can be used to start the engine. Additionally, car owners can set shared permissions to allow others to easily access the vehicle via their own phone.
More advanced safety features. As noted up top, Hyundai vehicles including the Sonata have long been admired for including the most advanced of passive safety equipment and advanced active safety tools. But now there is even more of such features. For example, the 2020 Hyundai Sonata features one of the most recent advancements in driver-assist technologies: The Safe Exit Assist. This feature warns passengers and the drive of traffic coming from behind to prevent accidents that occur by opening the door on a bicyclist or close lane driver. City owners of this model, such as Chicago drivers, will really appreciate this feature.
Learn More About the 2020 Hyundai Sonata at McGrath City Hyundai
The 2020 Hyundai Sonata has changed so much from its predecessor that it almost seems like a brand-new vehicle! Even if you've already test-driven the 2019 Hyundai Sonata, you really should give this model a go. Do so today by visiting our team at McGrath City Hyundai and learning more about the many other features and capabilities of this sedan.